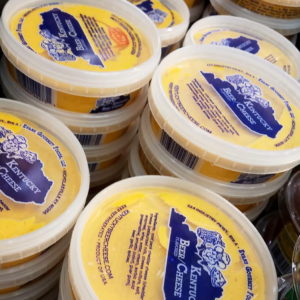 Kentucky Beer Cheese was founded in 1987 by Sue & Jim Castano using the original recipe by Johnny Alman's restaurant, which was located on the Kentucky River. Sue tweaked the recipe a little and then started making it homemade for her friends. After receiving many compliments and requests for more cheese, Jim Castano bought Sue a large Hobart mixer and told her to, "get selling!" The rest, as they say is history.
Diane and Chris Evans bought the company in 2004. They have continued the superior quality and exquisite flavor of Kentucky Beer Cheese. Since 2004 the company has increased sales by over 300%. Based on the numerous requests for Kentucky Beer Cheese from around the country, Kentucky Beer Cheese has a following far past the borders of Kentucky.
A Tradition 30 Years in the Making …
Pure, Traditional Beer Cheese – Thirty years in the making!
We use only the highest quality ingredients and proven, trusted methods to create a quality and consistently great tasting beer cheese. Available in two flavors: Regular and Hot.

Proven Winner
The Beer Cheese Festival in Winchester KY celebrates all things beer cheese, which originated in Clark County during the 1940's, with contests, tastings, music and food that transform Winchester's Main Street to Beer Cheese Blvd.
Find out why Kentucky Beer Cheese was selected as the first prize winner in 2017 and 2011; second place winner in 2013!
2017 – 1st Place Winner
2013 – 2nd Place Winner
2011 – 1st Place Winner
---